Termites also called white ants or wood ants can be a very stressfull discovery for any property owner. We have written a guide and treatment process for termite control. Pest Managers is an accredited Termite Control Specialist. Pest Managers can assist with all forms of termite control in Cape Town.
There are three species of Termites we find in residential areas of South Africa
Family Cryptotermes
Drywood termites are social insects that infest dry wood without coming into contact with soil. The thin, oval-shaped bodies of drywood termites are light brown and generally shed their veiny wings within minutes of landing, indicating their presence.
| | |
| --- | --- |
| Color | Light brown |
| Legs | 6 |
| Shape | Long, narrow, oval |
| Size | 9.5mm to 12.5mm |
| Antennae | True |
---
Habits and behaviors of drywood termites
As opposed to subterranean termites, drywood termites have no worker caste – immature termites perform the work before becoming adults. These termites often cause major damage before they are discovered, as they live in colonies of up to 2,700 individuals.
Termite soldiers can easily be identified by their large mandibles, which are often wider than their heads.
Are Drywood Termites capable of creating Mud Tubes?
In contrast to other species of termites, drywood termites do not dig mud tubes to build thriving colonies. Drywood termites leave behind erratic, smooth galleries that seldom follow the wood's grain.
When Do Drywood Termites Swarm?
From August through November, drywood termites typically swarm during the late summer or fall months. Drywood termites fly to new homes and buildings in search of wood to infest. Within months of colonization, they can cause significant structural damage. In addition, drywood termites create "kick-out" holes to push excrement through wood – leaving behind mounds that resemble sawdust.
How to Prevent Drywood Termites
By storing firewood and scrap wood at least 10 meters from homes and structures, drywood termites can be avoided. Since drywood termites form new colonies by gaining access to wood through small holes, it is important to seal all cracks and crevices in a building.
Signs of a Drywood Termite Infestation
Termites, especially in warm, rainy weather, will produce swarms of winged males and females, which fly off to start new colonies. A colony of termites can also be identified by mounds of their distinctive, sand-like fecal pellets called frass.
Family Coptotermes
Subterranean termites live in underground colonies. They prefer moist, secluded areas below ground. The colonies can contain up to two million members.
A subterranean termite's appearance depends on its caste. Workers are cream-colored and 9.5mm to 25mm long, while soldiers have powerful mandibles, brown heads, and cream-colored bodies. A reproductive termite is approximately an inch long and looks like a winged ant. It is often possible to distinguish reproductive subterranean termites from drywood termites by the dark vein running through their wings.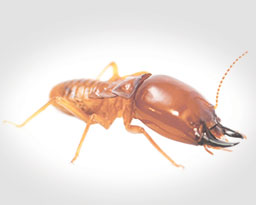 | | |
| --- | --- |
| Color | Creamy brown |
| Legs | 6 |
| Shape | Long, narrow, oval |
| Size | 12.5mm |
| Antennae | True |
Habits of Subterranean Termites
In order to reach food sources, subterranean termites build tunnels using mud. Their diet involves wood and products containing cellulose, as does that of other termite species. Subterranean termites swarm in spring and begin new colonies by flying away.
Subterranean Termite Tubes & Habitat
A subterranean termite must be in contact with soil to survive and thrive underground, which is why they build their distinctive "mud tubes" (sometimes called "termite tubes") to reach food sources and to protect their colonies from the open air. Even cracks in concrete can be penetrated by these industrious termites.
Potential Threats
Subterranean termites cause over R32 billion in damages every year. Subterranean termites can collapse entire buildings, causing financial ruin to homeowners and businesses. Termites use their saw-toothed jaws to bite off small pieces of wood one by one.
Family Coptotermes
As the name suggests, dampwood termites damage wood with high moisture content. It is common for dampwood termites to be larger than other types of termites.
| | |
| --- | --- |
| Color | Creamy white to brown |
| Legs | 6 |
| Shape | Long, narrow, oval |
| Size | 25mm |
| Antennae | True |
Habits
Like drywood termites, dampwood termites have no worker caste. The nymph dampwood termites feed the soldier caste and care for the colony's kings and queens. Tunnels with smooth walls, as if sandpapered, connect the chambers in wood.
Habitat
Dampwood termites are usually found in logs, stumps, dead trees, fence posts and utility poles.
Threats
Due to their need for excessive moisture, dampwood termites rarely infest structures. However, dampwood termites can cause significant property damage if they are attracted to a structure. A total of $5 billion in property damage is caused by dampwood termites and other termite species every year.